Road to a Dynasty is going to cost $$$
by Joseph Birmingham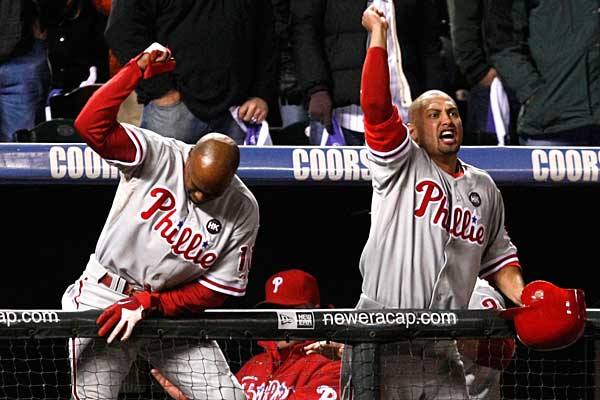 If the Phillies want to become a dynasty, I offer 5 suggestions to send them on their way. They have a good balanced ball club, one that has won the National League east three times in a row, been to 2 World Series and won one. That is a good 500 or so games for the team. But to truly become a dynasty, they need to sustain this level of play for 1000 or so more games.
That is tough in an arbitration filled, salary capped, league unless they plan on spending half a billion dollars each and every off season like the Yankees seem to do. Frankly, as much support as the Phillies get, I still  don't think they can afford to do this, and I doubt the fans will support them spending that kind of money in the city of brotherly love unless they become perennial champions first.
But short of spending billions there are a few steps they can take to ensure success for years to come, simply by adding the right pieces to the existing nucleus of this years club and securing the worthy pieces they already have in the fold to make sure they don't find greener pastures elsewhere.   Chase Utley was ranked the 6th best player in baseball, Jayson Werth and Ryan Howard should be in the top ten as well. Cliff Lee is a top five pitcher, and Cole Hamels is probably a top ten pitcher, JA Happ is the runner up rookie of the year.  Beyond that, the team is really a group of utility players, position players, run producers and role models.
In addition to this strong nucleus, now that trading season has begun, here is what I would do if I were Ruben Amaro.
1.) I would do whatever it takes to sign Placido Polanco to play third base next year.  5 years for $40 million perhaps.
2.) I would sign Omar Vizquel to replace Bruntlett as the end all-be all utility middle infielder.  4 years for $10 million.
3.) I would sign Ryan Howard up for the rest of his career, with a rich contract full of performance bonuses and incentives, this is the guy who hits 40 homeruns, drives in 140-150 runs, scores another 100 and has a strikeout total that is dropping and a fielding percentage that is rising.  This is a motivated player, 2005 rookie of the year, 2006 MVP, and in my opinion 2008 MVP as well; we CANNOT let him go.  He has three years secured right now, that leaves him a 32 year old in his prime either arbitrating or shopping himself as a free agent.  Wrong !!  He should get something in the 9 figure area now that he proved himself for the fourth straight year, remember he was asking for $18 million a year, before accepting a three year buyout deal in February for $54 million, but is entitled to  Texiera/ARod/Jeter type money and will go get it elsewhere in 2012 if he doesnt get it here.   Figure 5-6 more years at $130 million.
4.) I would sign Jimmy Rollins for another 5 years, slightly sweeter than his previous 2005 deal, to keep him in the leadoff role through 2015.  Figure $40 million here.
5.) I would sign Victorino to a long term contract as well.  Shane and Rollins are looking to be perennial run scoring gold glove machines, and having them 1-2 or 1-3 or whatever in the lineup in front of Utley, Howard and Werth means opposing pitchers dont stand a chance.  You can lock down Shane for $10 million for 4 years.  $40 more million.
Also, I would tie up Chan Ho Park with a multi year deal.  Park is by far the best deal for the money, and a known prospect who performed as well as any other bullpen hopefuls the Phillies are looking at.  $10 million ?  It seems a lot but in baseball salary terms, a drop in the bucket !
Think of it, Rollins, Victorino, Utley, Howard, Polanco, Ibanez, Werth, Ruiz, with Francisco, and Vizquel occasionally spotting the starters makes one hell of a lineup.   Everyone of those guys could score 100, drive in 100, hit 30 doubles, 20 homeruns,  steal 20 bases, and have an OPS  between .600 and .900.
Then you have Lee, Hamels, Blanton, and Happ as a four man rotation with Park, Madsen, Eyre, Durbin and probably Lidge since Charlie loves the guy in relief. Who thinks that group WON"T win 100 games next year ? And using these numbers plus those already signed onto contracts, that still places you around 8th in the league in overall payroll.
Because I can sense a dynasty in the making, I only hope Amaro and Manuel sense the same thing and are committed to spending the resources to make it happen.  It won't be billions but it WILL be $250,000,000 +.   But think of it, $250 million is less than the largest contract in baseball for one person, and it secures a championship caliber TEAM potential through 2015 or so !!  The key is to do it now, and get it done, and then reap the rewards for the next 5-8 years to come.   The fans in Philadelphia are long suffering and certainly deserve it !
Filed Under
Phillies
Comments